We Welcome New Dancers
Season 2018/2019
Registrations:

Monday, Sep 10, 2018
6:00 - 7:00 PM
at St. Basil School - 10210 115 Ave NW. Edmonton, AB
Lessons Begin:

Tuesday, Sep 11 at 6PM

at St. Basil School - 10210 115 Ave NW, Edmonton, AB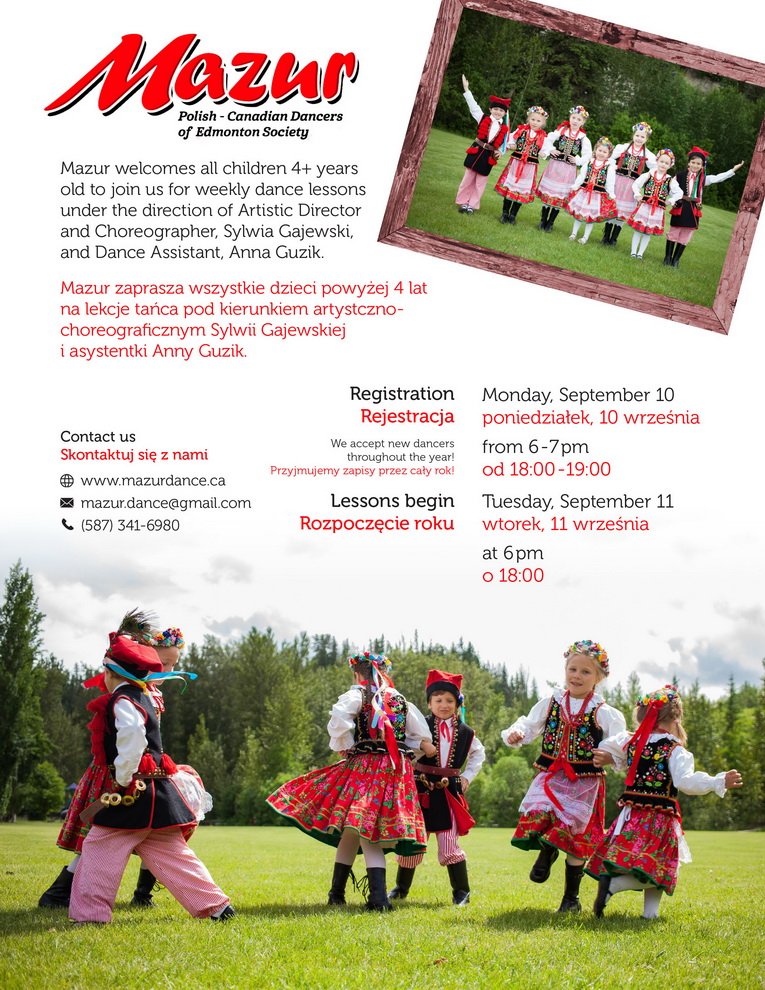 Click to See Our Registration Poster
Roger Karol Niedzielski
Priesthood Inauguration Banquet
Central Lions Recreation Centre
Edmonton

Canada 150

Ottawa Trip/Workshop

March 29, 2017 – April 01, 2017


The older dance group was very fortunate as they had the opportunity to travel to Ottawa this year. 2017 is a very special year as it is Canada's 150th anniversary, and what better way to celebrate then to visit our Nation's capital. We wanted this trip to be educational but also, for our dancers to have a fun and a memorable experience. Ottawa is rich in history and has much to offer, and although our visit was short, we certainly made the most of it. We visited the Parliament Building which sits on top of a hill overlooking the Ottawa River, thus the name, Parliament Hill. We took advantage of the free guided tours that are offered daily and had a chance to go inside and learn many interesting facts and also to head up to the Peace Tower which offers a scenic view of the city. The Supreme Court of Canada was another interesting place to visit, our guide who was a law student herself gave us a tour and a better understanding and insight on how legal issues are dealt with by the Supreme Court of Canada. On the day of our tour, the court was in session and we had the opportunity to sit in on the hearing of an appeal already in progress. The Royal Canadian Mint tour gave us a better understanding about money, specifically coins. The Mint was founded in 1908 at which time it produced circulating coins, today, the Ottawa headquarters produce hand-crafted, high quality collector and commemorative coins, as well as gold bullion coins, medals and medallions. Today our circulation coins come from the manufacturing plant located in Winnipeg. We also visited the Canadian War Museum, Canadian Museum of History and the Rideau Canal and last but not least we met with the Polanie Dance Group. It was an honor to meet the Polanie dancers and the Dance Instructor Andrzej Borowiec who led the workshop. All the kids had a great dance session and enjoyed snacks and pizza afterwards where we had a chance to chat and get to know each other. We look forward to meeting again in the future.

Summer Performance

We were very excited and proud to perform at the Peach Festival,
where dancing is cool even on sunny days.
We always feel welcomed in Penticton BC

| | |
| --- | --- |
| | Mazur Polish Canadian Dancers of Edmonton Society was established for the purpose of providing a creative and enticing learning environment for school age children and youth. To lively traditional Polish music, children are taught the intricate dance steps and choreography of traditional folk dances from various regions of Poland. |
| While learning the various traditional dances enhances children's understanding and appreciation for Polish culture, creative dance builds teamwork, perseverance, as well as physical agility and coordination. Through dance, children also learn self-discipline, are encouraged to make constructive use of leisure time, and are taught the importance of contributing to the broader community | |
Our Sponsors
Acknowledgement
Pictures by: family members and friends. Graphic from: "Wzory haftu kaszubskiego szkola slupska" published on the 35 years of the "Muzeum Wsi Slowinskiej w Klukach"
i